In which the Mean Popular Girl is both Mean and Popular, and the entire ritual falls apart briefly.
(Also, I actually watched these three episodes last week; I just forgot to post my notes about them.)( Read the rest of this entry »Collapse )
Originally published at Egypt Urnash. You can comment here or there.
by Matthew Kressel.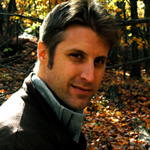 As most writers know, finding the perfect place to write is almost as challenging as writing itself. Of course, some will say that there is no perfect place to write. That you must write everywhere and anywhere you can. Perhaps that's true. But for anyone who has ever tried to write in a crowded coffee shop, with babies screaming, people on cell phones, and the guy in the table beside you who keeps sniffling and smells like he put on too much cologne this morning — well, I'd say that some spots are better than others.
I used to write in my living room / office nook, which for most of the day is about as dark as a cave. But since I use the same computer for my day job stuff as a web designer / programmer, I found it was best to separate the two locations. So I wrote in the kitchen, on the hard wooden chairs. That's where I finished the final draft of "The Sounds of Old Earth," which is now up for a Nebula Award. You would think that I'd stay put, since the location appears to have worked in my favor.
Mirrored from SFWA | Comment at SFWA
Yesterday, I worked on the next page of Rita. It includes a figure lying under a quilt. I decided that this was a perfect job for a distortion mesh; I grabbed some regular gridded details from an earlier page, turned them into a pattern fill, and started futzing about.
I started to notice some distinct quirks about how the mesh was behaving as I started to push it into overlapping itself. I did some crude patches to work around it, but I felt like I still had things to learn. So when I got up today, the first thing I did after showering was to open up a new document for the specific purpose of exploring how distortion meshes work.
Full preview.
Outline view.
THINGS I HAVE LEARNT:
- Illustrator does not guarantee that a self-overlapping mesh will be rendered the same way as it's rotated. Look at the bottoms of the mirrored images. It seems to render the leftmost pixel of the undistorted imagery, and either completely drop, or merely hide, the rightmost. (I need to do a test with multiple vector shapes inside the mesh instead of the bitmap I used here – that'll tell me exactly what's happening here.) Presumably there is also some sort of painting order going on from top to bottom, as well.
- If you want to simulate drapery, you need to add more mesh lines, and push them around so that there's no self-overlap where the drape goes behind itself.
- If you need to break a mesh point's curve handles into a corner, you need to switch to the pen tool and break it with that.
- It is probably best to create a regular grid for purposes of draping stuff. Possibly both in terms of the mesh you create to do the distortion, and the imagery you're distorting? I will have to explore this when I do my proposed exercise of drawing a figure with mesh-distorted patterns on all their clothes. Possibly as a standalone image, possibly as a costume change in Rita…
I wonder if it would be possible to automate the process of adding more mesh lines to hide self-overlap? I may have to see how much detail of a mesh is available to scripts. But later for that. I have a page to finish.
Originally published at Egypt Urnash. You can comment here or there.
Compiled by
Cynthia Leitich Smith
for
Cynsations
On Neutral Characters and Relating to the Specific
by Shannon Hale from squeetus blog. Peek: "Why can't someone like Maisie be worthy of a story too? I've encountered similar opinions over the years and began to come to an uncomfortable understanding, one that others before me have also discovered."
On Diversity Within Diversity
by Ava Jae from Writability. Peek: "Sometimes we forget that the community of that one sect of people is just as beautifully diverse as the world as a whole. Diversity within diversity."
On the Care & Feeding of Writers
by
Julianna Baggott
and David G.W. Scott from Writer Unboxed. Peek: "Your writer is practicing empathy and understanding of her characters; you can have that same empathy for her."
Why Talking About Girl Reading Matters
by Kelly Jensen from Stacked. Peek: "Girls, on the other hand, are unlikable. They have girl problems. They have girl drama (drama, always drama). They are girls in crisis, rather than girls living through the challenges they have to confront in order to be their best selves. In so many of the books that tackle these challenges, girl is a qualifier."
Writing Emotions: Does Your Hero Shrug, Smile & Frown Too Much?
by
Angela Ackerman
from Writers Helping Writers. Peek: "Are these types of descriptors all bad? Certainly not. The fact is, each of these is a real way people express their emotion. It's only when we rely on a clichéd rendition of showing these cues or we turn to them again and again throughout the story that they hurt our writing."
2014 Nonfiction Award Nominees
from YALSA. Peek: "In addition to
the finalists and award winner
, YALSA publishes a list of vetted nominations for the Nonfiction Award." See also
Carla Killough McClafferty on Revealing Your Heart in Nonfiction
from Cynsations.
Maybe You Could Do More
from Jo Knowles. Peek: "Sometimes, opening my file, or putting on my sneakers, is actually the hardest part of getting back to the task at hand. It's the final commitment to starting again. Starting from what feels like the bottom of a very steep hill. So I told myself:
Just write one sentence. It can be terrible.
"
Writing Tips & Diversity Points at the SCBWI Winter Conference
by Cindy L. Rodriguez from Latin@s in Kid Lit. Note: includes seven tips from Katherine Tegen editor
Anica Rissi
on writing contemporary fiction, Knopf editor Nancy Siscoe on writing for middle grade readers, and
PEN America
's Susanna Reich on
banned books
and diversity.
Why Is Historical Fiction Important?
by
Bobbi Miller
from Children's Literature. See also Bobbi on
The Conversation of Historical Fiction Continued
. Peek: "For some, historical fiction is first and foremost fiction, and therefore anything goes. Others condemn the blending of invention with well-known and accepted facts and consider the genre contradictory at the very least and, at most, it is a betrayal."
A comprehensive list of U.S. college- and university-sponsored or -hosted children's and young adult literature conferences, festivals, and symposia
by
Chris Barton
from Bartography. Peek: "In 2011, I was looking for such a list, wondered why I couldn't find one, and decided to just go ahead and make one myself. Since then, I've periodically updated and reposted it, and I plan to continue doing so. If I've missed any, or included some that no longer exist, won't you please let me know?"
Rejecting Rejection: With a Little Bit of Luck
by
Sarah Aronson
from The Writing Barn. Peek: "Four years after reading the manuscript, she remembered some of the details. She asked me what had happened to the story. I almost fell over. As soon as I got home, I opened the file and read that manuscript. And you know what?"
2014 Illustrators Gallery
at the SCBWI Bologna Book Fair from SCBWI. Peek: "There were 105 entries submitted and, from these...judges have chosen these 34 finalists. The overall winner and four runners-up will be announced on this page at the start of the fair."
Where Do Boys Belong in Women's History?
by Jill Eisenberg from Lee & Low. Peek: "Alongside our girls, boys need the language of equality and a broader view of history. Women's contributions advanced our society and continue to impact all of us. We need to teach that gender totally does matter and, at the same time, totally doesn't matter."
Writing for the Long Haul: Quitting Writing
by
Kelly Bennett
from
Janni Lee Simner
at Desert Dispatches. Peek: "...publishing can wreak havoc on our writing lives. It did mine. Having a 'career' requires us to split ourselves in two: part creative writer, part business-minded author."
Interview with Literary Agent Steven Malk of Writers House
from Casey McCormick at Literary Rambles.
Peek: "I do think that smaller publishers can be incredibly effective. There are pros and cons with just about any house, but there have been several instances over the last few years of smaller houses publishing books that have enjoyed phenomenal success."
Filmmakers! Check out this
contest for a 30 second to three minute video celebrating children's-YA literature
from Writing and Illustrating for Young Readers.
Interview with Adi Rule on Strange Sweet Song
by
Leah Cypress
from The Enchanted Inkpot. Peek: "To make it in classical singing, you have to be tenacious and ferocious. But at the end of the day, you also have to captivate an audience, and there's a certain sensitivity -- and vulnerability -- that goes along with that." See also an
interview with Adi
by
Janet S. Fox
from Through the Wardrobe.
What to Do When Your Story Feels Rushed
by
Deborah Halverson
from DearEditor.com. Peek: "...work in setting details with language that conveys an atmosphere, have the characters act upon and react to props unique to the spirit of that place, and include smells and textures that engage readers' senses."
Migas, Confetti and Martha Stewart
by
Diana López
from Latin@as in Kidlit. Peek: "...'I hate when people tell me I should add more cultural interest to my books.' In other words, I don't like these details to be forced. They have to feel natural, and as long as I'm not consciously adding them, they will be. Sure, my characters eat migas, but they eat pizza, too."
Here's What Both Pantsing and Plotting Miss: The Real Story
by
Lisa Cron
from Writer Unboxed. Peek: "What drives your protagonist forward is her internal agenda: she arrives on page one already wanting something very badly, and with an inner issue – a misbelief – that she has to overcome in order to have a chance of getting it."
Call the Reading Police
from Gwenda Bond. Peek: "Being really well-read in one genre or in all sorts of genres is a beautiful thing. Most of my favorite people on earth are. But...I have zero patience for reader shaming or for making people feel lesser or unwelcome or clueless because they haven't read the same things you have from some inevitably problematic canon checklist."
NAACP Outstanding Literary Work Awards
Nelson Mandela
by Kadir Nelson (HarperCollins)
Nominees:
Youth/Teens Award:
Courage Has No Color, The True Story of the Triple Nickles, America's First Paratroopers
by
Tanya Lee Stone
(Candlewick)
Nominees:
This Week at CynsationsCynsational GiveawaysAustin SCBWI
This week's highlight was hearing
P.J. Hoover
speak on world building at
Austin SCBWI
's monthly meeting at
BookPeople
. In addition to offering great information, P.J.'s presentation was a terrific example of an author presentation. She did a wonderful job with visuals, incorporating humor, and encouraging interaction in a kid- (and grown-up-) friendly way. P.J. is a top author speaker!
Hat & umbrella -- Austin in late winter/early spring.
More Personally
I've working steadily on my revision of Feral Pride (Book 3 in the Feral series) on my sleeping porch with bands from
South By Southwest
playing in the background.
Despite living in Austin some 15 years, I've never had a chance to embrace the festival in a big way because it typically coincides with a novel deadline or author travel.
I'm so sorry to hear of the injuries and lives lost due to
the drunk driving incident
on Wednesday night. My thoughts are with the victims and their loved ones. See also
Blood Donors Needed After SXSW crash
.
My revision is going well. I thought I'd do a sweep to streamline the antagonists' construct and then revisit my alternating protagonists, but I'm finding that much of the character work is coming naturally along the way.
Everybody writes differently, but I encourage y'all not to
cling
to your process, especially when it's not conducive to productivity. Especially if you are transitioning from apprentice to published professional (with its industry demands), you may have to stretch in new ways. Or, if like me, you're an established pro with an ever-faster-moving schedule, then you may have to find a way to do that, too.
On Cynsations, there's been a lot of buzz around
Ellen Oh's post on Sexism
(prejudice by women against women and female characters). Don't miss it or the continuing conversation in the comments. See also the post Ellen recommends by
Sarah Rees Brennan on the portrayal of female friendships in YA fiction
. Note: Ellen reports having lost 53 Twitter followers in the immediate wake of her post--you know, for being
against
sexism. You can follow her
@elloecho
.
I'm also thinking about
How Do Authors Know When Their Manuscripts Are Ready?
at Sub It Club and
Janni Lee Simner's thoughts On the Amtrack Residency: Residencies Versus Contests, Dreams Versus Desperation
. See also
Writers Say, "Not So Fast, Amtrack Residency."
Congratulations to
Teresa Runnels (Sac and Fox Nation) of Tulsa City-County Library for being featured as one of Library Journal's Movers & Shakers 2014
!
Personal Links
Cynsational Events
The SCBWI-OK Conference
will be March 29 in Oklahoma City. Speakers are: Liza Kaplan, Editor, Philomel; Melissa Manlove, Editor, Chronicle; Andrew Harwell, Editor, HarperCollins; Colleen AF Venerable, Design Editor, First Second and author of Guinea PI series; Kristin Miller-Vincent, Agent, D4EO Literary Agency; Tricia Lawrence, Agent, Erin Murphy Literary. See
more information and registration
.
Writing and Illustrating for Young Readers
will be held June 16 to June 21 at the Waterford School in Sandy, Utah. Keynote speaker:
James Dashner
; faculty includes Cynthia and
Greg Leitich Smith
. Learn about the
WIFYR Fellowship Award
. See also
Alison L. Randall on Choosing a Writing Conference
.


I wish he hadn't used the rather loaded word "myth," since it mocks the human ambition to have knowledge about the world. I certainly wouldn't want to tell James Baldwin or Richard Wright that their writings about racism are a "myth of literature" depending upon "the demand of the public." In parts of his book, Sartre does go out of his way to praise Richard Wright, even if sometimes the praise sounds weird to me.

On the other hand, it can be incredibly difficult to communicate without a shared understanding, and that goes for writing as well as any other kind. The greater the original gulf between the writer and the reader, the more work they have to put into reaching across the divide. Every once in a while I want to tell a funny story to my friends or students in China that depends on having watched American TV back in the 80s, but most Chinese don't seem aware of any American television before "Friends," which is about when my knowledge of TV starts fading out.

I do like the idea that writing can "enclose, specify, and surpass this situation," which I take as meaning an expression of understanding and the passing on of that understanding, and you do usually have to understand your situation as a first step to surpassing it.
"One cannot write without a public and without a myth – without a certain public which historical circumstances have made, without a certain myth of literature which depends to a very great extent upon the demand of the public. In a word, the author is in a situation, like all other men. But his writings, like every human project, simultaneously enclose, specify, and surpass this situation, even explain it and set it up, just as the idea of a circle explains and sets up that of the rotation of a segment."
First, I think I'd like you to visit this link. Then come back, and we'll talk.
***
Did you look over there? Good. Just two short days ago, Ferret was writing blog posts that were sort of low about his chances of getting an agent. I'm glad that this story had a happy ending. I think more so, because I've watched this struggle over a matter of years. I met him in 2009, and I know he's been working on his writing career long before that.
This would be the point where I would normally do a reversal, and talk about myself. But since I'm so damn zen now (!), instead, I'd like to suggest that this experience is one that a lot of us can identify this. Why do I think Ferret finally got his agent? It's the same old, sort of like the same old advice on how to lose weight. Which is a different post. Here's what I see happening.
1. Ferret actively and continually improved his craft. He went to workshops and participated in other workshops, and tried to learn new tricks. He got educated.
2. Ferret ripped his stories to shreds and put them back together, a lot. He didn't send out crap. He sent out solid stories that were worth reading. Strange, yeah, but worth reading.
3. Ferret kept writing and submitting. Even in his darkest hours of doubt, depression, and rejection, he kept at it. Persistence was Ferret's mantra.
4. Ferret published short stories. He gained some recognition for it. Through this venue, he became a respected writer.
5. Ferret has an online presence as a writer, so people know what he's like and can access him. This tends to give a writer a boost.
6. Ferret wrote a couple of novels. He sent them out. And got rejected. And sent them out. And got rejected. And sent them out. And didn't get rejected.
***
There's probably a lot more than this I don't know. But you know, there's a lot of blog over in the Ferret-verse to get the whole picture. The point is, the salient points to me, my friends, is this one: all of this took time, and this man put in the time. He put in the work. He didn't let the rejection and the depression keep him from doing that. He's often said that it's work for him, that he doesn't have a natural sense of what to do. I can relate. I often intuit my way through a story, but costuming? Man, I had to build that skill through much trial and error. That ain't easy. There was no magic bullet here, or overnight success. He worked hard.
And I'm more puritan than I like to admit, because that whole work ethic thing just works for me. Also, it should give you hope. It gives me hope. Because this is what I'm doing too--creeping closer and trying to stay on track, and working my way to my goal.
I like to see success for someone when they've put in time and effort. It makes me happy. And you know, if Ferret can do it, we can follow his path. In the best sense, this guy deserves the blue ribbon.
Now, I gotta go wrestle some stories to the ground. It's my daily writing time.
Mirrored from Writer Tamago.
By
Cynthia Leitich Smith
for
Cynsations
Check out this
fantastic author video
by
Kwame Alexander
, promoting
The Crossover
(Houghton Mifflin Harcourt). Why is it so great?
Kwame's (a) irresistible combination of humor and charm, along with (b) a call to action and (c) a preview of the book to come.
From the promotional copy:
"'With a bolt of lightning on my kicks . . .The court is sizzling. My sweat is drizzling. Stop all that quivering. Cuz tonight I'm delivering, ' announces dread-locked, 12-year old Josh Bell. "He and his twin brother Jordan are awesome on the court. But Josh has more than basketball in his blood, he's got mad beats, too, that tell his family's story in verse, in this fast and furious middle grade novel of family and brotherhood from Kwame Alexander. "Josh and Jordan must come to grips with growing up on and off the court to realize breaking the rules comes at a terrible price, as their story's heart-stopping climax proves a game-changer for the entire family."
Huh. I seem to be dumping a lot of feature requests in Illustrator's feature request form today. I guess I'm like, you know, I feel like I'm actively funding development by subscribing to the Creative Cloud, and I would like to make my voice heard.
Originally published at Egypt Urnash. You can comment here or there.